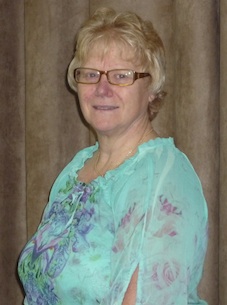 Susan Crockford, Food Co-ordinator:
I have been attending Royal View Deaf Church since 2012 after I moved to London from Sarnia. I was born and grew up in North of England. My parents and I immigrated to Canada in May 1972 when I was 19 years old. I finally became Canadian citizenship in 2010 after 38 years living in Canada. I am widow after been married to my husband Greg for 37 years. We have three awesome children - Daniel, Chester and Chelsea and 2 beautiful grandchildren - Carter and Faith.

I wasn't brought up in a Christian life. Few years after we were married, our friends took us to a hearing church where Greg accepted Jesus in his life. I wasn't ready for few months later until I read the Deaf Bible and was surprised when I saw the verses: "We know that we belong to God. But the Evil One (the devil) controls the whole world." 1 John 5:19 (English Version for the Deaf) and "We know that we are children of God, and that the whole world is under the control of the evil one." 1 John 5:19 (NIV)

Devil controls my life, no way! Greg was so happy that I accepted Him. We were baptism. After difficult time, we did not faithfully going to the hearing church because we believe that the hearing people from the church don't care about us because we are Deaf. Also, there was lack of ASL interpreters. Today, I am happy that I found my faith again in this Deaf church.

On February 2013, I went to Ecole Renaissance des Sourds (Deaf School) in Senegal, West Africa for two weeks with Pastor Joe, Sandra and 3 other people. It was the most spiritual moments in my life. I would love to go back again someday. I have been actively involved in RVDC. I am in the Leadership Team, the Bible study, Food Co-ordinator and drummer. Now, the committee and I are working to implement "Sunday School" and hopeful to start sometimes in 2014 for our deaf and hearing children.

---