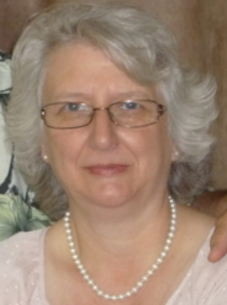 Peggy McKinney, Event Co-ordinator:
I'm Christian Deaf woman who is mother of 2 sons and I have 3 grandchildren. I've been married to Terry McKinney for 17 years.

Few important events for me... I became Christian at an early age and was baptized in Mapleview Community Church, Barrie in 2003. Before we were settling in London, we moved around lots of places and lived in Calgary for 7 years. It was time for us to come home to Ontario. By the time, Terry and I found this church after accidently drove by and we have been attended since 2011. We have seen the richness in this country which God has created.

Since I attend RVDC, I involve in some church services and Bible studies. For a little while, I was a chairperson of Women's Time Out and a few events such as a special baby shower for the new comers of Deaf Nepalese couple. Currently, I focus on leading the group of Deaf women for "Jesus Is Enough" by Women's Connection. Now I am an Event Coordinator for RVDC to ensure that our eventful activities are blended in well in our schedule with RVC's(Royal View Church) and LCD's (London Community of the Deaf) events.

---