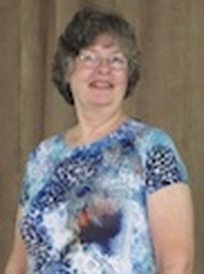 Pat Gardner, Worship Team Chairperson:
I have been a member of Royal View Deaf Church (RVDC) for 20 years. My husband, William and I have been married for 42 years. We have two grown sons - Tim and Jeff. Recently, we are very happy to have our first granddaughter, Rayne in April 2009.

First day in September 1949, my parents and grandparents drove me to Ontario School for the Deaf (now called Sir James Whitney School) in Belleville, when I was 5 years old. For 15 years, I stayed in a residential school for 9 months and went home for 3 months every summer as well as 2 weeks of the Christmas holidays.

One summer, when I was 7 or 8 years old, my brother wanted to sell his stuffs for a garage sale. I saw a picture of "Jesus stands at the door." The picture was so pretty that I wanted to keep it; but I didn't understand it. By the time, I because a teenager. A teacher, Miss Joan Anglin had lived in a dormitory in a girl residence. She loved to tell the Bible stories every Saturday afternoon, when she has a free time. One day, she talked about 'Jesus stands at the door' - Revelation 3:20. She explained "I" means Jesus. I asked Miss Joan that I want to have Jesus in my LIfe, so she wrote me a note for a bedtime. That night, I read and prayed to Jesus before I went to bed. Jesus has been my Saviour ever since.

There was one brief miracle that I had experienced during spring 1974. I believed that God healed me when I had a mild Multiple Sclerosis for 3 months. I praised God.

Back then, William and I had been to a few different hearing churches, before we came to RVDC. Since then, I volunteered participating on the Steering Committee for twelve years. I still am involved on the worship team and have lead the team for over 14 years. I enjoy worshipping and praising songs to my God. Also, I have been a janitor for my church, arranged the garage sales twice. This year, I am helping to work at Ark Aid Ministry.

---