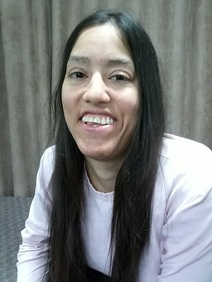 Leah Shadd, Secretary:
When I was born the doctors thought that I would never be able to walk, talk, read or write but, thanks be to God, all these obstacles have been overcome. However, I am deaf but again, thanks to God, great hearing aids and having learned to lip read, I can communicate verbally as well as am learning sign language.

I grew up in a Christian family home. I trusted Jesus as my Saviour when I was young but did not get baptized until August, 2012 when I came to understand that if I wanted to have a closer relationship with God my first step should be to obey Jesus' command to be baptized. Now I strive to read my Bible and pray every day.

I went on a mission trip to South Africa with Teen Missions International in April, 2011. It was an awesome trip. We did many things such as children's Bible classes, gave away loaves of bread which had Bible verses stamped on them and sewed school bags for the children. I would love to go back there again some day. I began attending Sunday services at Royal View Deaf Church in June, 2013 and am currently volunteering as Secretary's Assistant as well as attending weekly Bible study.

When I think about the future and heaven, I find myself looking forward to three things:
1. seeing Jesus face to face, talking to Him and feeling His love
2. receiving a perfect body and
3. no longer having to deal with pain.

But for right now, while still on earth, I just want to serve Him here.

---