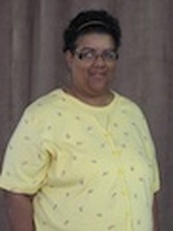 Kristeen Elliott, Home Bible Study Teacher:
I have been attending RVDC since 1995, after I moved to London from USA. I grew up in a Christian home and going to hearing church with my parents since I was baby. At the age of 12, my fave brother in law Ray, whose death was so devasted to me. And my thought was "Is there a life after death? Will I see him again?" My mother explained to me that there is a life after death is Jesus. Because Jesus died on the cross for us and rose to the heaven. Heaven is a place where saved people go. You have to be saved so that you can go to the heaven; Jesus is the way to the heaven. I understood it and I got saved. I memorized the verse: John 14:6. Jesus is my life.

I have been actively involved in RVDC. One year, I briefly taught Sunday School for deaf teenagers and Bible Study for Special Need Deaf adults. Some years ago, I used to enjoy being involved with the Silent Praise Choir, the Worship Team, the Bible Study, and worked as a Secretary. During our National Deaf Conference in 2005, I prepared and created a brochure for this event and helped set up the admission table. Currently, I am involving in the Leadership Team, the Worship Team and teaching the Home Bible Study.

---