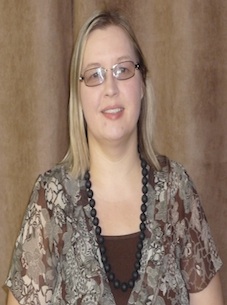 Karina Laari Morgan, Pastor's Council:
I have been at Royal View Deaf Church since January 1992. Here is a brief history of my family: my mother's grandfather was one of the founding fathers of Pentecostalism in southern Ontario many years ago. My father is a pastor. I have been married to my husband, Travis for almost 4 years, and we have two beautiful children.

I became a Christian when I was five years old. At that time, my family and I lived in Oshawa. There was a special speaker who came to our church; he was a man in a wheelchair. He talked about how God changed his life. Before that, all the Christians, I knew. were physically "perfect" (people who were not crippled, blind, deaf, & disabled). So I thought God only accepts perfect people and won't accept me because I am deaf. When I saw
the wheelchair man speak to us about how God changed his life and accepted and loved him, I thought, "Maybe God can love me too," So I knelt in the pew with my mom and a few older church ladies around me. and I asked Jesus to come into my heart to stay.

I have been actively involved in RVDC. One year, I briefly taught Sunday School. A few years ago, I set up some special events for children at Easter and Christmas. During our National Deaf Conference in 2005, I planned and ran the children's program. Currently, I am involved in the Leadership Team, and also am in on the Pastoral's Council. I am a volunteer on the Media Team that runs the PowerPoint for Sunday services.

---