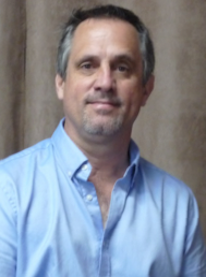 Reverend Joe Coreno, Pastor:
I am a regular family guy. My wife's name is Erin (hearing) and I have been married 29 years. We have two beautiful kids - Kevin and Catherine. Our son Kevin recently got married and we now have a beautiful daughter in law named Cathy. I graduated from Eastern Pentecostal Bible College (now Master's College & Seminary) in 1985 and received my Bachelor of Theology Degree. I am an ordained minister with the Pentecostal Assemblies of Canada (PAOC). In May 2015, I graduated from McMaster University, Hamilton with my Master's of Theology Studies Degree.
Prior to becoming deafened, I was involved in pastoral ministry in various hearing churches of my district. For the past fourteen years, I have lived London leading Royal View Deaf Church. If I can be of any help to you please contact me. We are here to serve you!
Pastor's Council Members: Dallas Fooks, Karina Morgan and Cheryl Stewart (consultant) assist with making decisions relating to church operation and functions. They're here to help our members if I am away on conferences or holidays. Email:
rvdeaf@rogers.com
---