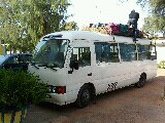 The topic was "Rediscovering Joy for the Journey" that God spoke to the committee. A committee also invited students who are in their final year of high school in Senegal. An opportunity for all people and students who use English language and who serve in Senegal to come together for worship, spiritual nourishment, fellowship, encouragement and to allow God to refresh us.

The trip took us hours drive south. At the hotel the total of people was about 80 of us altogether I think. Excitedly, a wonderful lady joined us as she was our voice and sign language interpreter. Although, she is a Grade 1 teacher and is fluent translator. Blessed her heart for willing to interpret for me. She and I shared the room and GUESS WHAT! We stayed in the SAME room #110, that I had two years ago with the team. Chuckle... Oh right, she also joined the worship team to play fast music with Senegalese drum as well as on Sunday morning, I joined the team one song "I Love You, Lord". In the evenings, we watched a movie, and a few games. One of the games was "One Minute to Win"; oh what a fun! We had some real good laughs.

Over the weekend, I faced some barriers along the way. My experiences were somewhat challenging for me to deal with. I was only deaf person among hearing people and we did not have any qualified interpreter. Despite of the barrier situations, I enjoyed worshipping, learned some good messages from the speaker, made few new acquaintances, and relaxed in the pool. Gratitude for the Retreat!

---