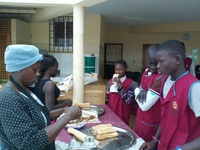 Greetings! I'll guide you through what the children's general routine schedule throughout a day in ERS looks like.

Before 8:00 am, all students arrive at school to wait in a room on the ground floor. They have a good habit of washing their hands before they enter the building. While we wait for all students to arrive, other staffs have the meditation from 7:30 to 8:00 upstairs. The meditation involves worship, prayer, short sermon and once in a while, short announcement. Each teacher takes a turn to share the short sermon. The classes run until 10:00 am; then they have a morning 1/2 hr break in the terrace upstairs. There are sandwiches to sell if a student wants to buy; actually all students are always hungry so they get the sandwich. After the sandwich was done, the mid-young girls once in awhile decide to create a dance in a small group or play a hand-dance game; the rest is just having some chats. Also once in a while, they get a chance to dance solo or group with two deaf boys play drums into booming rhythmical beats. Classes resume until 1:00; then lunch was provided for half an hour. Then they moved on to the professional classes; these classes involve hair dressing (hair braids skills), art, sewing, computers, words & numbers, la boutique (beads – to make jewelleries and items to sell) and sign language. Children LOVE these interactive activities!

Beside all these, students go out to the sand lot to have physical education (exercises, games and soccer) once a week. The younger ones go on Tuesday mornings, while the older group goes on Thursdays. Once I joined the older ones to the physical education; we jogged in the soft sand field. Later at night, my left knee gave out aching, when I got up to go to bed. Ahhhhh, I could not bend the knee; if I remember right, I stayed home for a day to give it a rest and ice on it. Then I limped for a couple of days. I learnt my lesson not to jog or run in the sand again!!! Chuckle… walk only!

---