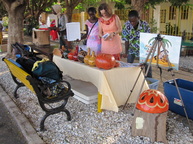 Beautiful day on Saturday November 20th, four of us went to DWG's Bazaar, who hosted the event all day. A Deaf guy took charge of our booth and we helped him. We sold his handicraft stuffs that are made of gourds such as table lamps, wall lamps, hanging lamp, and treasure chests. Also, we sold beads jewelleries, bookmarks, key chains, and greeting cards. These items were made/painted by students during their one of professional classes in the past year. I fast forwarded you to February 2015 to current; the students are enjoying making many more new and beautiful beads jewelleries for this year. We will have "La Boutique's Exhibition" this coming late April to sell and display their arts.

The bazaar had huge various items to display and sell. All items were made from knitting, quilting, woods, coconut, gourds, African materials, painting, sculpture, pottery, glass, metal, ceramic, recycle items, and even plastic bags. They were such a great creative items to see. Ohhhh... of course, there were some homemade delicious bakeries and goodies to buy.

We took turn to have a break from the booth and browsed around all the booths. Eventually, we met few deaf sellers there and it was really nice to meet them. Other deaf man taught people how to make a pottery and also sold pottery of vases, sculptures, dishes, and etc. Funny, a deaf lady also sold beautiful pottery of containers; like toothbrush or pen holders, small table lamps, soap dishes, etc. Near the end of the day, deaf people gathered to have some chats.

What a Great Bazaar!

---